The History of Mainstreet Community Bank of Florida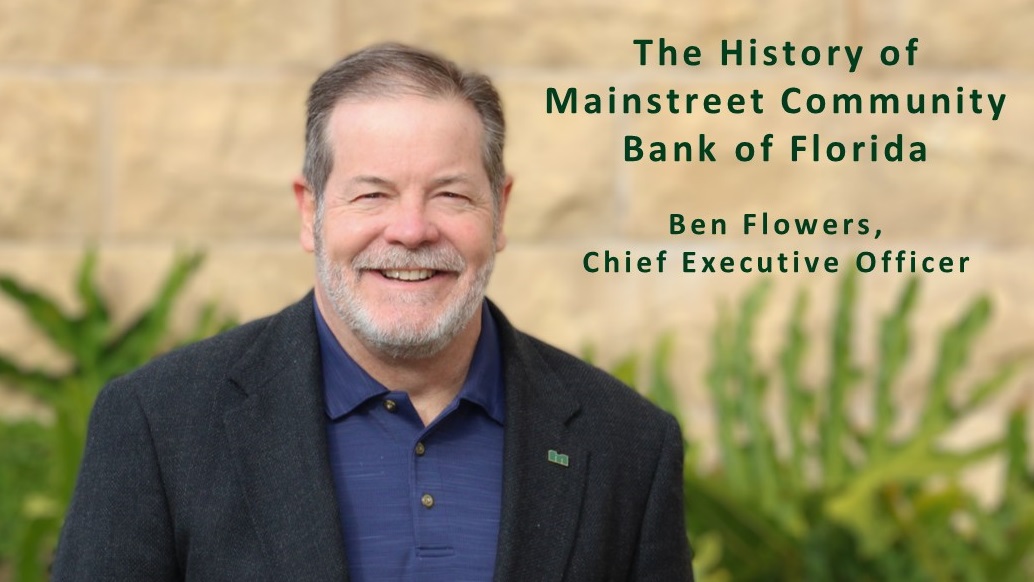 The History of Mainstreet Community Bank of Florida
By W. Ben Flowers, Jr., Chief Executive Officer

In October of 2002, while enjoying one of my best years as a commercial lender and team leader for SouthTrust Bank, my customer and friend Geof Felton approached me and asked, "Do you know of anyone who would be interested in starting a community bank in DeLand?" Geof said he was redoing a home in DeLeon Springs for a very successful businessman from Michigan, a gentleman by the name of Bill Roberts. He said Mr. Roberts was a super nice guy. My response was, "If I ever left SouthTrust, or Jimmy Ford, it would be to start a community bank, but honestly, it would be really tough to raise the necessary capital in this market, especially with First Community Bank so entrenched in the market." Geof told me that they had all the capital necessary and all they needed was the right person. I cautiously expressed an interest. A few days later, I was contacted by John Pattison who said he wanted to go to lunch to discuss this bank idea and that he was a consultant hired by Mr. Roberts to assist in starting a bank in Florida.
After meeting with John, I shared a lunch meeting with the "owners" - Bill Roberts, Frank Peplinski and Dave Hyzer - at the airport in Sanford. There was an immediate connection, and it was clear to me that these were "real" people. Through our conversations it was evident that, though successful, their focus was "family." They shared their vision for building on that foundation and "doing things the right way" which piqued my interest.
Bill suggested that I fly up to Bad Axe with my wife, Janelle, so that I could see their operations and understand their methodology (and that they were "for real"). We visited, met many family members, and toured their Northstar Bank.
Then came the hard part; taking the "leap" and leaving SouthTrust Bank. After sharing a meeting with Jimmy at his home, he was gracious in accepting my resignation. I was now an employee of DeLand Financial Services, LLC! From then it was working with John Pattison and getting the business plan and application for a bank charter approved with the State of Florida, so we engaged the services of Jack Greeley to assist in the application process. Meanwhile, we rented an office from Roger Baumgartner in his Mainstreet Center downtown. The name I wanted to use was Rivertown Community Bank, but Greeley cautioned me against the name, as he represented Riverside Bank and thought that they would oppose us using that name especially since they were building a branch in DeLand. In working on a name, we kept discussing we wanted to be on the Boulevard (on Mainstreet), so it was determined to go with the "Mainstreet" name. It was then we decided to add Roger Baumgartner, Frank DeMarsh, Geof Felton, Alex Ford, and David Monk to the director team.
Over the next several months we worked to assemble the land where our bank is today. This involved dealing with three very different owners. Chuck Milligan owned the corner and everyone in DeLand thought the site was contaminated (which it wasn't). Working with the Hunt brothers (had to find them a location and thanks to Bill Roberts and Frank DeMarsh we did!) and then buying a piece of vacant land from Pinnacle Bank director, James Houck. I worked with Chris Hunter, a realtor for Bill Mancinik, and Roger Baumgartner on these transactions.
It was especially tough to navigate the next piece of this puzzle as the Hunts were caring for their ill mother. At times, I was hesitant to meet with them unless it was a bright and sunny day, so Bill Roberts and Dave Hyzer would always tell me it was a good day to do business if the "sun was shining in Florida!" This deal carried a hefty price tag, which made me a little hesitant, but Bill Roberts consulted me saying "a good real estate deal is when both sides are happy".

Once this deal was completed, it was time to find a temporary location since the buildout of this location wouldn't be ready for over a year. We considered bringing a trailer to our bank site, but soon determined that it would be a logistical nightmare given the ongoing construction and lot size. It was suggested we buy Martin Chandlers old house/office a block away which we soon acquired from Kathy Lawrence.

After Geof Felton completed the renovations of our temporary offices (302 S. Woodland Blvd.), we opened on October 24, 2003, with nine team members: Hal Rogers, Sue Paquette, Kelley Grose, Kelly Rodgers, Kurt Koshiol, Sandy Barker, Tracy Robinson, Loreal Middleton, and Belkis Reyes. A year later we moved into our new, permanent, location in downtown DeLand!

In 2005, we discovered SouthTrust Bank was looking to sell one of its branches located at the intersection of North Spring Garden and Plymouth Avenue. Mark Moyer, a member of our Senior Management Team (who previously managed that branch), possessed valuable insights about the local market. We contemplated acquiring the branch, but due to non-disclosure agreements and market conditions, we decided to establish a storefront branch across the street. This led to us purchasing the property where our North Spring Garden Branch is presently located. The storefront branch opened its doors on May 2, 2005.
Shortly thereafter, Hal Rogers and I received a list of branch bank offices available for sale or lease, which included the location of our current Orange City office. We submitted a lease bid offer at an aggressive rate but were outbid by a bank planning to lease multiple locations.

A few months later, the realtor informed us that the previous deal had fallen through. Seizing this opportunity, we submitted a revised bid, offering a lower amount, and insisted on the option to purchase. Our persistence paid off and we secured the location. During this period, we were fortunate to bring on board our current Senior Vice President, Scott Miller, and we officially opened the Orange City branch on April 3, 2006.

Our new North Spring Garden branch, designed to mirror our downtown office, commenced operation on January 16, 2007. Subsequently, the Great Recession hit, prompting us to bolster our capital by adding $6MM and proactively addressing problem loans. It was during this time we were informed by bank Director, Randy Marshall, that Wells Fargo was closing their branch at John Knox Village. The market conditions were so unfavorable, no one bid on it. Stephanie Koshiol and Mark Moyer suggested that if John Knox Village would subsidize us, we might be interested. John Knox Village did indeed support this and we opened the branch on October 4, 2010.

Shortly after, we discovered the mortgage company that had assisted us with mortgage lending, Prime4Banks (dba Prime Home Mortgage), became available. With the help of Arthur Campbell, our Credit Administrator at the time, we successfully acquired the assets and customers of this company, finalizing the sale on September 8, 2010.

In 2012, with four successful locations, our Board decided to host a strategy meeting to discuss a vision for expanding beyond Volusia County. We initially opened a Loan Production Office (LPO) in Orlando with the intention of considering a Winter Park office. After a year or so, we decided to close that venture, but our commitment to expansion persisted.

Over my years of involvement with the Florida Banker's Association (FBA) and annual trips with them to Washington, DC, I got to know fellow banker Paul Rountree from Clermont. Through conversations with Paul, we began exploring opportunities in the Clermont market and found it was quite appealing! Paul, leveraging his relationships, negotiated with another banking colleague from Centennial, who was looking to leave Clermont when Paul joined our team. A handshake agreement was reached, without brokers and investment bankers, and we acquired the Clermont location, along with its deposits. Clermont was officially inaugurated with Paul Rountree and Tracy Durrance at the helm on April 11, 2016.

Concurrently, we were working on opening an office in East Volusia. Through collaboration with a realtor, we identified a property in Holly Hill. After a comprehensive renovation of the building, we relocated our mortgage division there. The branch, of which Charmin Stumpf, our current Branch Manager, was an original team member, opened on May 20, 2015.
In early 2019, another former SouthTrust Executive and Community Banker in Ocala, Tom Ingram, reached out to gauge our interest in the Ocala market. Due to a non-compete agreement, Ingram was sidelined, and we welcomed Angie Clifton to our team. We initiated a temporary Ocala office on September 5, 2019. Ingram later identified our current location, a run-down building, which we then completely renovated to its current appearance. The permanent location opened on January 15, 2020.

As we pushed past $500MM in assets, the COVID pandemic emerged. Our team worked diligently through the uncertainties of the pandemic, providing Paycheck Protection Program (PPP) loans to our customers in need. Amidst these developments, Paul, with the help of longtime banker and current SVP, Shannon Marks, secured a branch location in Longwood. This branch opened on February 22, 2021, despite the complications of the pandemic and were able to host a grand opening a year later. (By the way, that beautiful fish tank was my idea!)

As we celebrate our 20th anniversary, we have secured a lease and are currently in the process of applying for a branch in Oviedo, with the goal of having it up and running in 2024.

For 20 years, we have never strayed from our vision of "doing the right thing" and we hope it is evident in the way we serve our customers and empower our team members. It has been an honor to build the Mainstreet Community Bank organization alongside some of the most amazing people.

Let the story continue!